PEST CONTROL MAINTENANCE PROGRAM
Pest Control Management
Pests are active year-around which means you need protection year-around.
Our custom Integrated Pest Management treatments adapt with the season to address seasonal pest activity, giving you protection all year long. Our strategies focus on long-term prevention of pests or their damage through a combination of techniques such as biological control and habitat manipulation.

SPRING
Spring is breeding season for many pest types.
SUMMER
Summer heat means pes activity is high.

FALL
As temperatures drop, pests seek someplace warm.
WINTER
Pests will be looking for all of the warmth and moisture they can find.
Basic Home Protection
Our Basic Home Protection Program treats ants, spiders, centipedes and many other common pests to protect your home protection all year long.
Total Home Protection
Irish Brothers Total Home Protection not only covers ants, spiders, centipedes and other common pests but also includes termites, bedbugs, and roaches.
Business Protection
Whether you are a restaurant, farm, retail store, industrial facility or warehouse Irish Brothers Total Business Protection pest control programs are custom for your specific business.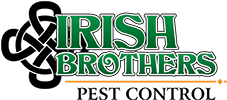 If you are looking for a Pest Control Maintenance Programs for your Home or Business, consider Irish Brothers Pest Control!