IRISH BROTHERS PEST CONTROL 
Irish Brothers Pest Control
Serving Johnson County and Surrounding Areas
Irish Brothers Pest Control is committed to state of the art technology – we are one of just a few licensed fumigators in the state of Indiana. We are equipped with multiple trucks and professional equipment to tackle your pest problem, no matter how big or how small.
Whether you are looking for a one-time service for an existing pest problem or regularly scheduled pest control, Irish Brothers is here to help. We have pest control service programs for your home or house.
Here is a sample list of some of the pests we can help exterminate:
Ants
Carpenter Ant
Little Black Ants
Odorous Ant
Pavement Ant
Pharaoh Ant
Beetles
Asian Lady Beetles
Carpet Beetles
Cigarette Beetles
Click Beetles
Drugstore Beetles
Cockroaches
American Cockroach
Brown-Banded Cockroach
German Cockroach
Oriental Cockroach
Smoky-brown Cockroach
Flies
Black Flies
Blow Flies
Cluster Flies
Crane Flies
Drain Fly
Other Gnats
Hornets
Millipedes
Mites
Mosquitoes
Moths
Other Pests
Aphids
Bat Bugs
Bed Bugs
Bees
Booklice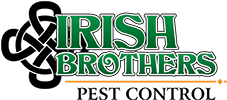 If you are looking for a Pest Control Company, consider Irish Brothers Pest Control!